Any combination of wind and rain can make spending time outdoors uncomfortable and often impossible, but it doesn't have to be that way. There's no reason to fear the wet weather and hibernate during winter when you have the comfort and protection of quality indoor and outdoor blinds.
As temperatures begin to cool down, it's time to start considering how you can warm up your home for the cooler weather ahead.  As energy prices continue to climb, finding alternate ways to effectively insulate your home is important.
For many Australian homes, large glass windows can be the ultimate sleek, modern addition when it comes to bringing the outside in. But, these large glass windows often poorly regulate indoor temperatures due to their insufficient coverings.
In fact, up to 40% of your indoor heating energy can leak out through uncovered windows and doors, which can skyrocket your energy bills and carbon footprint. This is where outdoor blinds and awnings come to the rescue to help keep your home cool in summer and warm in winter.
Simply installing insulating outdoor blinds to cover your glass, windows and doors means you can rely less on your heating and cooling appliances and more on not falling victim to those pesky energy bills. If you live on a busy street or perhaps you've got some noisy neighbours, outdoor blinds can even help reduce outside noise, so you can completely switch off at the end of a busy day.
Indoor and Outdoor Options
Vision Décor has a wide range of versatile models available that will suit any window or door applications in your home. Our range of outdoor blinds and awnings are made of very durable, insulated fabrics that will last for years to come, so you can always be assured that you will be protected all year round. No home is ever challenging for us, you can be rest assured that we have plenty of outdoor blinds and awnings for you to choose from.
For example, our Ziptrak Blinds can create an efficient indoor aesthetic while providing the perfect shelter from the harsh wind. Our Ziptrak Blinds are also environmentally-friendly which means you'll be helping the environment in the process. For something more on budget, Standard Café Blinds remain as a reliable, time-tested edition to any home.
Our Café Blinds will protect your outside living space from the wind, rain and sun which means you'll be able to entertain throughout the year. When it comes to awnings, you can choose from our outstanding Auto Arm Awnings with their slanted design and specially-made engineered plastics. Alternatively, our Folding Arm Awnings will give you a smooth effortless shade option for any outdoor area.
Installing quality outdoor blinds and awnings is only the start, now is the time to spruce up and winter-proof your home minus the sky-high energy bill with these top 10 tips.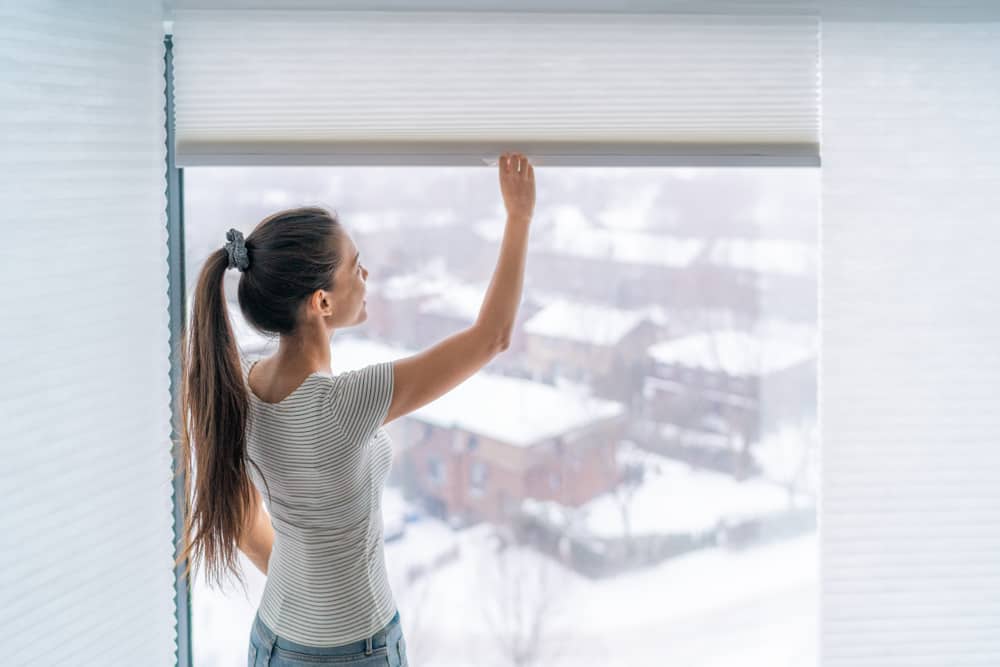 Get cosy with some inviting outdoor furniture – a big, comfy couch filled with some plush cushions nicely fit amongst a fire pit will make for the perfect intimate winter retreat.
Install a built-in fire pit – available in all shapes and sizes, sitting around your own rustic fire pit with your loved ones while toasting marshmallows can really make those cold winter evenings more enjoyable.
Make use of external heaters – just as good as a fire pit, take your outdoor space from dull and cold to toasty and lush with an electric or gas patio heater from your local Bunnings Warehouse or Segals Outdoor Furniture store. If you want less clutter in your outdoor living space, you may even be able to install infrared heaters in the ceiling of your veranda.
Make sure your blinds are shut when using your heater, particularly at night, to help trap the warmth within your home.
Keep those energy bills down by only heating the area of your home you're using, so you can save up for that summer holiday at the end of the year.
Invest in some door snakes or draft-proofing strips to seal any hidden cracks or gaps around windows and doors.
Use rugs to cover bare flooring like tiles and hardwood floors, not only does carpet provide a soft, fluffy surface for your feet but it's also an effective insulator. The fleecy material prevents warm air from escaping into the cold, keeping your energy bills in check.
That long hot shower after a long day in the cold wet weather may sound nice, but it won't be too nice for your bills. One way to get around this is turning on the heat lamp in your bathroom, which will help keep your hot showers short. Also, consider investing in some efficient shower heads that won't leave you drowning in bills.
It may be more tempting to turn on that glorious heater on a crisp winters morning, but before you race to switch it on, why not try some traditional methods of keeping warm first. Put on some socks, an extra jumper or snuggle up to a rug and hot water bottle to keep you warm on the couch.
Finally, it may sound obvious but keeping your blinds and curtains open during the day allows the natural warmth from the sun to enter into your home, which can save you hundreds.
Before winter really hits, you may want to start comparing your energy suppliers to better understand your current energy bills. A simple look around on the net could help you find a better deal and save.
Take on these top tips this winter and don't let the winter rain dampen your mood when it comes to entertaining or enjoying the outdoors.
Are You Struggling To Decide Which Blinds Will Best Suit Your Outdoor Living Space?
Reach out to one of our experienced consultants today and we can happily guide you in the right direction to get your home ready just in time for winter. We offer in-home obligation-free measures and quotes, so we can give you the right advice.