the beauty of wood with added durability
Vision Decor offer the latest laminate flooring
styles & colours in Perth to suit all homes
A modern flooring option to suit all lifestyles.
Formica Flooring not only works, it impresses. It has the depth and beauty of a natural wood appearance, but is tougher than most solid timber floors.
This means it can be used in many commercial or residential settings because it's extremely resistant to wear, scratches and stains. It boasts unrivalled strength thanks to the unique Forma- Lock™ locking system, and is incredibly easy to install and maintain.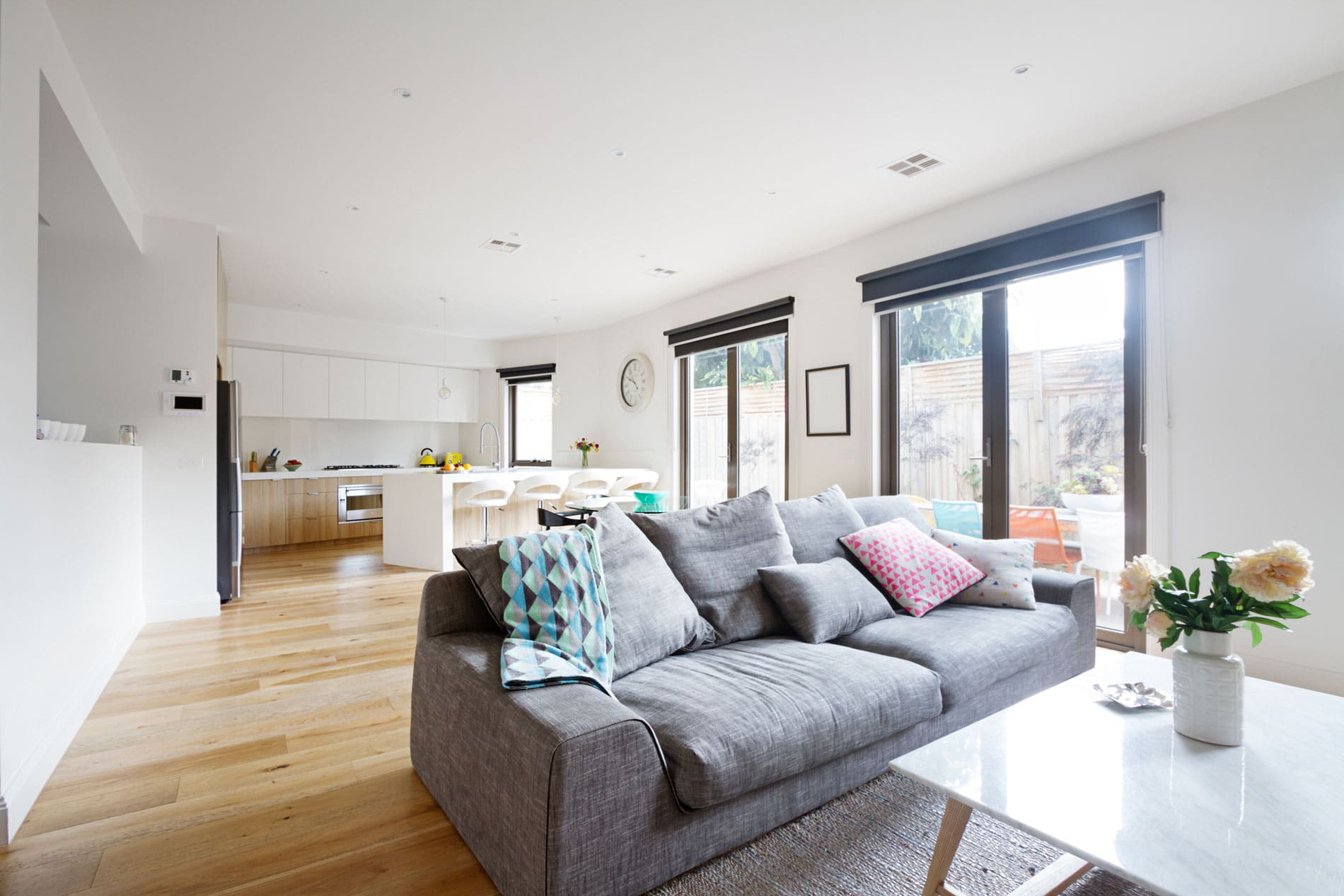 Greater style and choice
Whatever look you're after, Formica Flooring comes in Laminate, Supergloss™ and satin gloss finish ranges and is available in a popular and stylish range of colours and finishes. You can lighten or add warmth to any space with minimal effort and outlay. So whether it's for work or play, laying the right foundations is easy with Formica Flooring.
You can choose from a range of contemporary colours, grain patterns and finishes, including a classic V-groove look. Depending on your needs, you can also select from two ranges- Laminate in 7mm, 8mm or 12mm, and supergloss or Satin gloss finish in 10mm. The 12mm option is thicker than most other laminate flooring products available in Australia, and has a pre-adhered sound suppressing underlay for minimal foot noise.
There's a wide range of fetching finishes including;
durability & Maintenance
Laminate flooring is a highly durable, attractive alternative to timber flooring. It is almost impervious to dents and scratches with a "wear layer" that protects the photographic layer underneath, so you and your family can live your life without worrying about your floors.
A micro fibre mop or Formica Flooring Zip cleaner is all you need to remove stains, dust and mites. In the unlikely event that damage does occur, you can apply matching colourFill™ product to repair scratches or simply replace the flooring panel.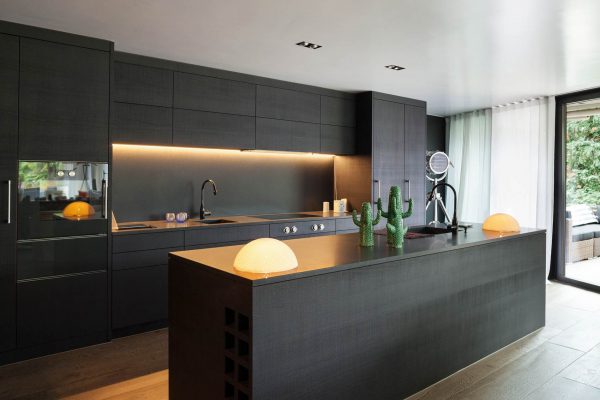 Better for you and the environment
Formica Flooring is an environmentally preferable product, manufactured exclusively from timber that's been sourced from sustainably managed European plantations. A significant proportion of pre- consumer recycled fibre (60%) and reclaimed wood waste (30%) is used.
The wood fibres are also bonded under high pressure and temperature using biologically degradable and low emission resins. Formica flooring is chlorine and PVC free and it does not contain any wood preservatives or harmful solvents. For you this means it has little impact on indoor air quality.
What is Formica Flooring made of?
DURABLE OVERLAY This unique resin-coated layer ensures a tough surface finish.
TEXTURED FINISH Your floors will feel more like timber too.
DECOR PAPER The resin-coated paper adds a deep, rich colour and authentic timber look.
CORE SUBSTRATE Commercial grade products (8mm and 12mm) feature the added benefit of a highly moisture resistant low swelling HDF substrate.
BACKING Special craft paper helps keep the panel flat.
SILENT UNDERLAY provides noise reduction and enhanced stability (available on 12mm product only).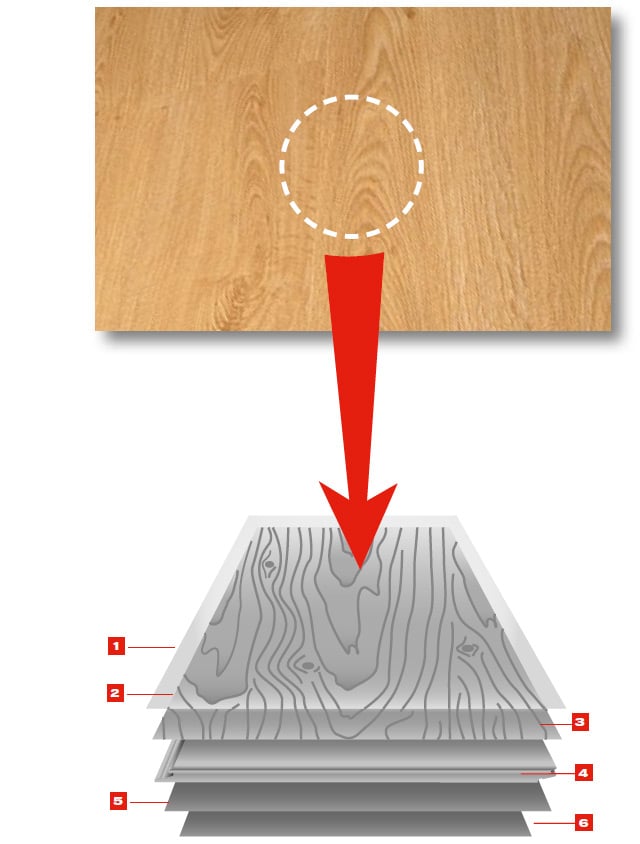 Formica Super Gloss
MULTI-LAYER UV COATING This unique resin-coated layer ensures a tough surface finish.
GLOSS FINISH Supergloss finish offers a stunning polished look.
DIGITAL PRINTED SURFACE This provides greater pattern variation and more realistic woodgrain depth.
CORE SUBSTRATE Our 8mm flooring offers a specially developed, commercial grade, high-density fibreboard substrate with the added benefit of a highly moisture resistant Aquastop 6 HDF substrate.
UV COATING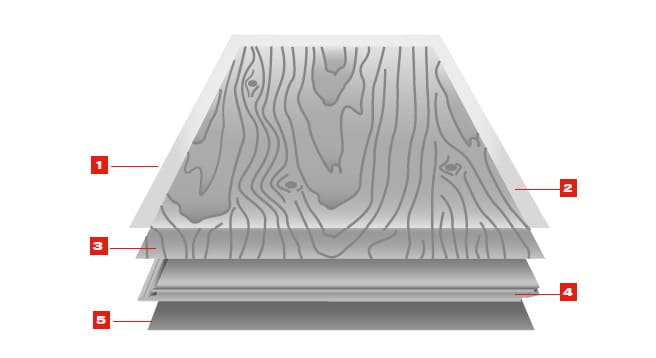 Laminate Flooring Installation
Laminate installs fast and easy. Older types of laminate flooring required you to glue pieces to each other but today's laminate flooring has a click/lock or fold/lock design that allows planks to fit together smoothly.
Laminate flooring installation is accessible to a DIYer as the material can be cut with a hand saw, but if you do get a professional to install it, laminate wood installation cost is, on average, 50 percent less than hardwood installation.
Corridor: Well suited for corridors and passageways in your home, Formica laminate flooring has the hardiness to withstand high traffic areas.
Lounge: Ideal for the lounge, pair with a rug for a cozier look.
Kitchen: The Formica Supergloss laminate will be well – suited for the kitchen, if choosing one without the feature, be quick to clean spills to avoid long-term damage.
Bedroom: Picture-perfect for bedrooms, with the added benefit to add or remove options of floor accessories.
Bathroom/laundry: Laminate floors aren't suited for areas with high moisture content if choosing to do so, speak to one of our team.
Laminate vs. Hardwood Flooring
Laminate flooring faithfully reproduces the look of wood, but unlike real hardwood, there are no defects, and its airtight plastic exterior creates a shield against moisture that wants to get in. From an eco-friendly perspective, Laminate flooring gives you the look and feel of exotic hardwood without impacting upon exotic or endangered species.
All flooring types have their own pros and cons, speak to our interior design consultants to decide what option best fits your home and lifestyle.
Is Formica the same as Laminate?
Formica is to laminate what Kleenex is to tissue. Formica is one brand of laminate, and among builders today tends to be the most popular.
If you're building, renovating or just want to update your space with laminate flooring, come in for a consultation.
Our consultants are experienced and knowledgeable and will work with you to get you the product and price that is right for you.
We make many of products we sell on site which helps to produce a quality product & our fitters are clean, prompt and will fit to your specifications.
Why Choose Vision Decor?
We pride ourselves on being able to provide our customers with the whole package:
More than just competitive prices
The best quality available
Expert advice

The latest innovations/colour

trends

Prompt delivery / fitting
Unsurpassed customer service
Ready to see what Vision Decor can do for you?
Get Started with a complimentary consultation