a seamless solution to weatherproof your home,

 CAFE OR OUTDOOR ENTERTAINMENT VENUES.
VISION DECOR STOCK A LARGE RANGE OF PVC AND FABRIC CAFE BLINDS.  KEEPING YOUR HOME OR RESTAURANT WARM AND DRY TIME AFTER TIME, ALL YEAR AROUND.
A TIMELESS OUTDOOR BLINDS OPTION TO SUIT ALL LIFESTYLES.
Cafe blinds are the perfect solution for keeping rain and harsh sun rays out of your home or business's outdoor area.
You can choose from our extensive range of durable and cost-effective options that can stand alone or complement a window.
Available in a variety of materials to suit your needs and style, cafe and bistro blinds from Vision Decor are locally built in our Perth factory, so you can rest assured that quality comes first.
Not sure if cafe blinds are the right choice for you? Our helpful team will help you decide which blinds are the best fit for your project and budget.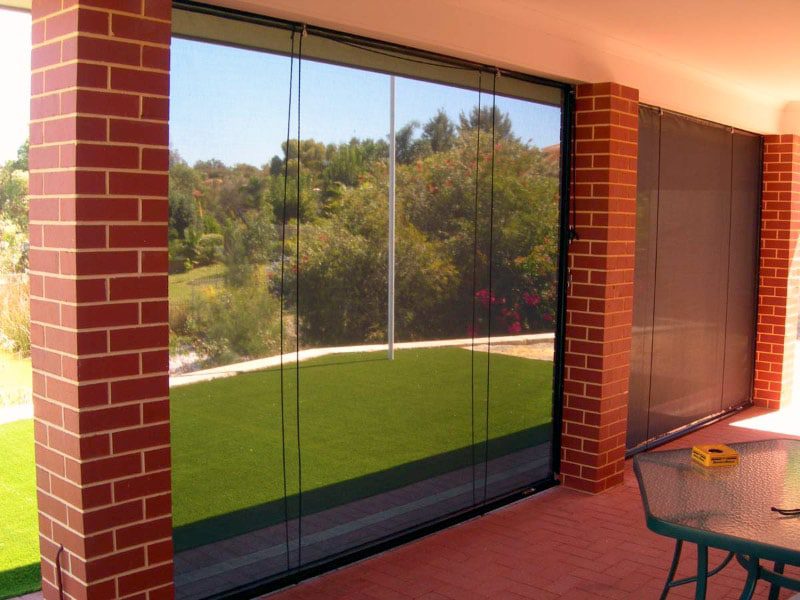 TYPES OF Café BLINDS
There is a range of cafe blinds to choose from with thousands of colours to choose from. Just inform us of your specific design needs and we will make it happen. You can choose between a manual or automatic options and with or without ropes, straps or buckles. All clear PVC blinds are fitted with an additional child safe feature.
Pocket Blinds
Versatile and incredibly easy to operate, can come with or without zips. If you are on a budget but want quality, don't turn a blind eye to this standard option. Offering the same value at a lower rate. Comes in PVC or tinted mesh, the range comes in any colour you desire. Create your ideal colour palette with these blinds.
Pocket Blinds without Zips:
Zip Free Pocket Blinds have no side retentions and are operated with a rope and pulley system, with a  buckle to strap the blinds down to the ground with belts.
Pocket Blinds with Zips:
Pocket Blinds with zips have the same operation as above, but with side, retention, and tracks which are installed to the walls for sturdiness.
Rope & Pulleys with premium locking base rails.
Add another element of minimalist charm to your space with this easy to operate, robust blinds. Offering a simple system that locks at the base. Offering protection from the wind, UV rays, and the harsh Australian elements.
Channel Blinds
Another great cost-effective option. Comes with channels on both sides with the fabric sitting inside the channels. Crank roller operated to go up and down with ease and can stop at the length of your choice.
Ziptrak range
If you are looking for a sleek new design without any strings, Ziptrak is the right choice for you. Seamless integration to the building. Automatic operation and is one of a kind Australian made for the Australian weather.
wHERE TO USE CAFE BLINDS?
Due to the design aspect and flexibility, cafe blinds aren't exclusive for commercial or residential use. Seen across homes, shops, and cafes across the world, these are a perfect solution in any outdoor setting: 
Homes

Outdoors areas

Backyards

Cafes

Shops

Enclosing patios

Decks  

Entertaining areas (patio, alfresco and marquees)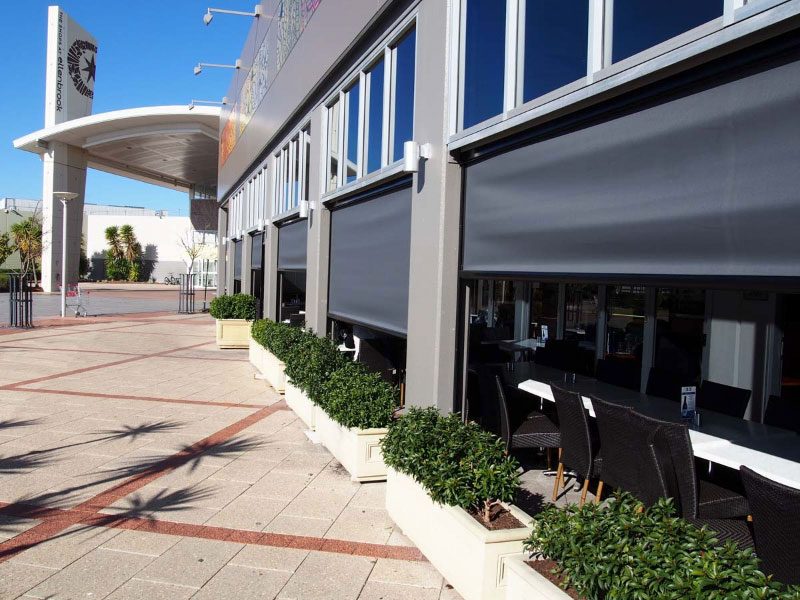 Choose the right cafe blind for you
| | | | | |
| --- | --- | --- | --- | --- |
| FEATURES – TYPE | POCKET BLINDS | ROPE & PULLEYS | CHANNEL BLINDS | ZIPTRAK |
| Heavy-duty | x | x | x | x |
| Strong and durable | x | x | x | x |
| UV protected PVC | x | x | x | x |
| Shade and privacy | x | x | x | x |
| Custom design | x | x | x | x |
| Motorised system | | | | x |
| Manual system | x | x | x | |
| Weatherproof | x | x | x | x |
| Free-flowing rope system | x | x | | |
Why choose vision decor?
Vision offers in-home free measures and quotes. We explain our products further so you know exactly what you are buying.
Committed to customer satisfaction, and take extra service measure to meet the decor vision you have for your outdoor living area.
If you already know what you are after, we can easily customise to order. If you would like a second opinion, our knowledgeable team provides tailor-made advice on the type of blind is best suited for the application and the design of your property.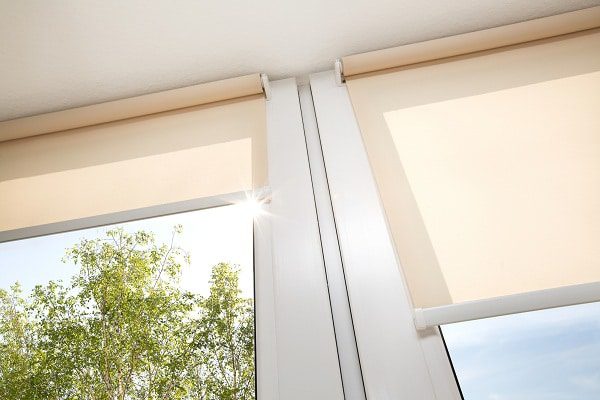 If you are looking to install or upgrade your outdoor area with Fabric, clear PVC or mesh cafe blinds, get a free consult with us.
Our helpful consultants will do a free in-home measure and quote. This helps the consultants provide you with aesthetical and practical product advice that will best suit your space and fits your budget.
We custom create most of our products on site. You will have an experienced designer and fitter to custom create and construct the blinds to your specifications while you sit back and enjoy.
Visit the Vision Decor showroom and start transforming your space.
We pride ourselves on being able to provide our customers with the whole package. Stop by our store to view our entire range and learn how we can enhance your space.
Vision Decor
2/19 Exhibition Drive
Malaga 6090
Ready to see what Vision Decor can do for you?
Get Started with a complimentary consultation