Picture this: you want to create a statement and boost the privacy of your home. You've done your research and have decided that curtains are the best way to add flair and function to your home. Once you select the perfect curtains for your space, it's time to get them installed.
Simply put, poorly hung curtains look bad and detract from your home's overall appearance. If you're like most people, you aren't an expert at hanging curtains but, luckily, you don't need to be – that's why we've compiled a step-by-step guide on how to hang curtains.
Hanging your curtains don't need to be difficult; with a few easy to follow steps, you'll have fashionable and functional curtains in no time!
The 3 most common curtain hanging errors
The low-ceiling effect: The "low-ceiling effect" is when curtain rods are hung just above a window's frame. The problem with this is that it gives the illusion that your ceiling height is lower.
In fact, the higher you can position your curtains, the higher your ceiling will seem and the larger your space will appear.
The too-short curtain: If there is one look to avoid it is hanging curtains that are too short. Not only do they look unfinished, curtains that aren't long enough will also lack the function of full-length curtains.
Avoid this mistake by hanging your curtains less than an inch above the floor or go longer for a dramatic look.
Too narrow curtain rod: If your curtain rod doesn't extend wide enough on each side of your window your curtains may somewhat cover your windows when pulled open.
This can mean that your curtains will block light and make your window – and room – look smaller.
Extend the curtain rod between 150mm-250mm on each side of the window to avoid this unpleasant bunching; this way, when the curtains are pulled open, the full window is exposed, and more natural light can cascade into your room.
Steps to hanging your curtains correctly
When you hang your curtains properly, they'll be easier to open and close and they'll effectively block the light, insulate your space, and guard your privacy.
Step 1:  Assemble supplies
Before you begin, you'll need to collect the necessary supplies for assembly and fitting your curtains.  This list assumes you're starting from scratch with nothing in place yet:
A curtain rod or rail with brackets or mounts

Pencil

Paper

Tape measure

Level

Screws

wall plugs

Drill/ screwdriver
Step 2:  Plan and measure
Use the pencil and tape measure to mark where your curtain's rail brackets or rod mounts are set to be, keeping in mind to space these a nice distance from the edge of each side of the window frame to allow for enough opening width and allow for maximum natural light.
Next, use the tape measure to measure the length from your curtain rail to the floor – you'll want to make sure you install the brackets at the right height to account for the length of your curtain.
Curtains often come in standard lengths but custom made curtains are ordered to length, so make sure you account for the correct length when you're preparing for installation.  
Use a spirit level to make sure the brackets are even at each side, then fix the brackets or mounts to the wall with a drill/screwdriver.
If there's a power outlet beneath the window, keep in mind that it can help for safety and practicality purposes to keep the curtain length around 30mm higher than the top of the power switches.
Step 3:  Connect curtains to the rod or rail
If you're working with a fixed curtain rail, use hooks to steadily lift and hook your curtain to the rail.  If, on the other hand, it's a curtain rod that you're working with, lower it from its wall-mounts and remove one of the stop-ends, then thread the curtains on to the rail.  
Once finished, screw the top end back into place.  Lift the rod again onto its mounting brackets, making sure one ring of each curtain remains outside the mount on each respective end.  This will keep your curtains in place at left and right edges of the window.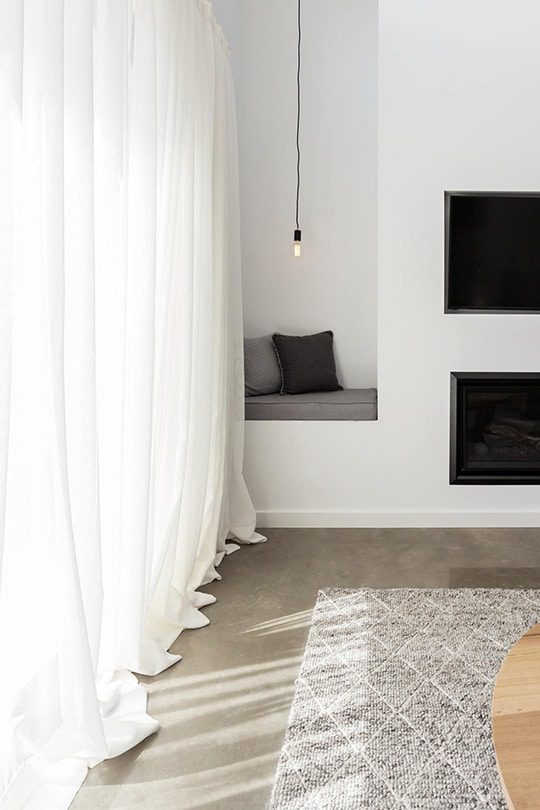 Final Thoughts
If you want to DIY your own drape installation in your home, Vision Décor offer a large collection of order in curtains and blinds in both standard and custom designs.
They have decades of experience creating, measuring and fitting curtains in the Perth metro area. If you'd rather sit back and leave the installation to the pros, Vision Décor can install your blinds in your home in no time. Get in touch to get started.